When you celebrate a milestone anniversary, throw a bash, and 13,000 people show up?
It could end up messy, chaotic, and jumbled, or, as was the case for the Academy of Nutrition and Dietetics 100th anniversary celebration, a rousing success.
Sure, there was some grumbling – you simply can't shuttle bus 13,000 people between McCormick Place and beyond for 3.5 days straight without long lines and extended wait times – and that was only for the women's bathroom (a hazard of belonging to a predominantly female profession!)
But then again, some people are NEVER happy. I wasn't one of them.
I've just returned from my profession's annual food and nutrition conference and exhibition (FNCE) held October 21-24. My brain is stuffed full of new information, and my heart overflows with gratitude and love for not only what I do, but the amazing people I get to do it with; my colleagues.
I got to hang out with a group of the most dedicated healthcare professionals and caring friends I know – from literally every corner of the United States and beyond. Regardless of our individual areas of practice – sports, women's health, pediatric or oncology nutrition – soaking up the latest nutrition science from cutting edge researchers, physicians and other professionals while sitting shoulder to shoulder with our nutrition besties literally had all of us a little giddy.
Except those complainers ;).
Below are a few highlights of the event, and in the coming weeks share blog posts that dig deeper into the four hottest presentations I attended:
The Women's Health Initiative: Two Decades of Knowledge Ready for Dissemination

The Evidence: Intermittent Fasting Effects on Cardiometabolic Disease and Cancer

Cancer Survivorship Lifestyle Guidelines: Time for Action

Nutrigenomics: Is It Ready for Prime Time?
EXHIBIT FLOOR FINDS
While I didn't get to spend a lot of time at the exhibits, here's what I saw trending: 
Foods you can eat on the run – everything seemed to be packaged to take with you.
Foods that are already prepared; just heat and eat, rip open and eat, or squeeze and eat.
Bars are going NOWHERE. Whether meal replacement, snack, protein or granola – packaged food bars show no signs of slowing down.
 An obvious focus on what's NOT in your food vs what is, and a reminder that this product really is REAL food. Ok.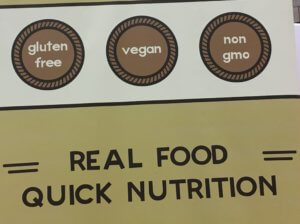 Superfoods, superfruits, etc. were just – everywhere.
And finally, what would a nutrition and food conference be without an actual cranberry bog. Yes, this really happened. Don the waders and boots and climb in to slosh through the bog. . .I didn't.