It happens every, single, workday, Monday through Friday. LUNCH.
I LOVE lunch, especially the lunches I make for myself (nutritious, delicious, and FREE!). I'm definitely not a lunch skipper; I've got to be on top of my mental game for afternoon clients, meetings or speaking events. Low energy and blood sugar, and foggy, sluggish thinking don't allow me to do my best work, and that's a disservice to anyone who entrusts their health and wellbeing to me.
What I'm definitely NOT a fan of, however, is actually making my nutritious, delicious, free lunch every, single, day. Truth be told, I hate it. When I get home from my office, I only want to decompress, eat dinner, and spend a little time with my husband before heading off to my crazy-early bedtime. See? No space for lunch making.
With no private chef or housekeeper to make my noon meal, I had to get creative to solve my love/hate relationship with lunch. Here's what I came up with; prep once, eat 5 times.
The solution is pure genius, and involves three of my obsessions. I've outlined my approach below – I'm certain it will work for you, too.
Obsession #1 – I've become obsessed with Snapware® http://snapware.com/, the GLASS version. I use two large rectangular containers,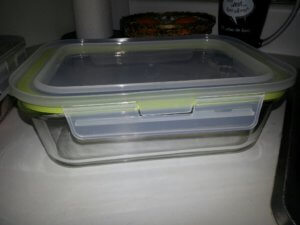 and on Sunday I pack them FULL of salad fixings. I haven't measured the volume (the volume indicated on the bottom is in milliliters, which doesn't translate well to cups of veggies), but I would say they easily hold 4-5 cups of chopped veggies. These two containers provide five generous salads, which means I only have to do all of that chopping ONCE!
Obsession #2 – A wide variety of fresh, "heavy-hitter" vegetables. I don't want a salad that's wimpy on quality nutrition, nor one that's "just lettuce" – I'd be STARVING within 20 minutes of polishing it off!  Here's a sample of what I typically include:
Carrots
Red or green onion
Fresh kale or spinach
Red pepper
Cauliflower
Broccoli
Red cabbage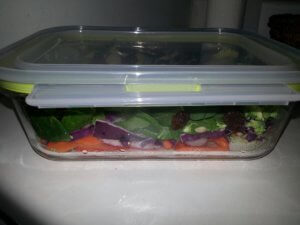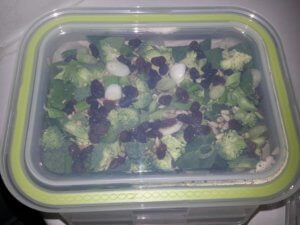 I top each salad with a sprinkle of raw, unsalted sunflower seeds and raisins. Heaven!
Obsession #3 – Homemade salad dressing, which is ALWAYS tastier (and better for you), than store-bought. I have a few I rotate through, but here's my current fav; http://www.thekitchn.com/recipe-miso-tahini-dressing-172942 (I use white miso). I make enough for the entire week – if there's any left over, I take it home and use it up over the weekend.
What rounds out the meal is a good protein source, so I'll add a week's worth of hummus or bean-based soup. I also bring five pieces of fruit (typically oranges and apples), which serves as a sweet finish to my feast.
I also keep crackers and raw almonds stashed at the office; the crackers serve as a crunchy accompaniment to my salad, and the almonds are a satisfying side to my fruit.
Bring it ALL in on Monday, and essentially, you're set for the week. So there you have it! My secret weapon in managing my love/hate lunch relationship. Pure genius.