I've just returned from two amazing weeks in Ireland – my first trip to this friendly country of stunning scenery, welcoming and hospitable people, and perhaps most surprising of all, delicious, healthy food!
Especially in the smaller coastal towns, local, fresh, whole and seasonal foods aren't buzzwords simply given lip service – they're the foundation on which meals are prepared, shared and enjoyed.
I won't lie, I was a little concerned about maintaining my vegan diet in a country better known for its lamb, beef and Irish butter then for plant-forward nutrition. As it turns out, there was absolutely zero cause for concern.
In each town we visited (we hit five!), whole food vegan and vegetarian options were abundant, restaurant staffers knowledgeable and graciously accommodating, and most dishes prepared from scratch and with care.
Even when traveling domestically, it can be tricky to maintain a diet that's health-supportive and geared toward breast cancer recurrence risk reduction; heading across the pond for an extended visit is an entirely different ballgame.
I wrote this post to help you navigate the summer travel season without abandoning your commitment to healthy eating – regardless of where you're heading – a feat that requires flexibility, creativity, and a little bit of nutrition know-how!
About That Airplane Ride Over
Let's start at the beginning. If you're flying to Europe, you're likely leaving on an evening flight. Even if you're flying domestically, the food served (or not) on an airplane and available at the airport is a consideration.
A seven hour flight is a LONG flight, and eating is one way to pass the time. Lots of folks tell me they eat the plane snacks served not because they're hungry – they're bored. Beware of that habit, if it's something you do. Those snacks are generally "fillers", not paragons of nutritional value, and the salt, fat, sugar and/or artificial ingredients may not be what you'd prefer to load up on.
We flew Aer Lingus, and opted not to pay extra for the meal; it was to be served at a time that was late night for us, and we knew we wouldn't be interested in eating. Besides, I pack food to get us through. Like what, you ask?
Peanut butter, banana and honey sandwiches

Homemade energy bars

Homemade almond/raisin mix

Apples
Surprisingly, on both the outbound and return flights, even without reserving/paying, we were served the "main" meal. Because we were sleeping on the way over, I don't know what was served, but about 90 minutes before landing, some sort of breakfast wrap was offered; we declined because we weren't hungry (it was the middle of the night for our bodies, for heaven's sake!), so there's a tip; check in with your hunger/fullness cues to be sure you're eating for the right reason!
On the return flight, we flew mid-afternoon. Although I picked snacks up at a market in Dublin (nuts/raisin mix, apples, bananas), we needed a little more sustenance to get us home. There were sandwiches available at the airport (after security, of course), but they were mainly meat/fish-based, so we skipped them.
Lots of folks in the airport magazine shop were loading up on candy and potato chips for the flight – not judging here, just sayin' – if you normally don't snack on those types of foods, steer clear – they won't leave you feeling so great. There were also fruit cups, cheese and crackers that could get the job done while leaving good nutrition in their wake.
During the return flight we were served a vegan chilli dish that was actually really good, but there was a limited supply (we got lucky!). If you're counting on the airline to always have what your diet requires, you may be disappointed. Pack yourself backup snacks/meals so you're not left starving and ready to eat anything that comes your way.
Determine Your Travel and Food Mindset
Since 2013 (even before my diagnosis), I've eaten a vegan diet. On rare occasions I enjoy a bit of salmon (perhaps when I'm on a sushi date with my husband), but the rest of the time I avoid dairy, eggs, meat, fish, poultry and pork.
A vegan diet isn't the right choice for EVERYONE (and it's not the ONLY breast cancer diet to follow), but it works for me. I make it work because I'm committed to it not only when it's convenient, but always; even when circumstances make it a bit more challenging.  
One way I make it work is by cooking. A lot. That's obviously impossible when traveling, so my solution is to choose only restaurants offering vegan and/or vegetarian options. For example, when in Ireland, if I'd eaten my evening meals only in Irish pubs, and breakfasts at restaurants specializing in the "traditional full Irish breakfast", I'd be navigating menus loaded with fish and chips, mutton stew, bacon, sausage, and eggs, with limited plant-based options.
Of course those are examples of local specialty dishes (more on that later), and there's absolutely nothing wrong with eating any of them if that's what you enjoy; but they weren't the right options for me. Why make it difficult to eat the food that makes you feel your best when there's no need to?
That's what I mean by finding your travel and food mindset.
Decide before you go whether you'll abandon your "normal" eating habits and patterns for the duration of your trip, balance abandonment with maintenance, or stick as closely as possible to how you eat at home. That mindset will determine how you approach meals, snacks and everything in between.
How to Choose a Restaurant That Supports YOUR Dietary Choices
Most evenings between 5 and 7 p.m., we witnessed the menu/restaurant review crawl. That's when folks start scoping out dinner options, meandering from restaurant to restaurant, peering at menus, and surveying members of their party to determine which restaurant could be "the one."
Most restaurants post their menu in full view, if not, simply ask to see it. Also ask at tourist offices for restaurant suggestions catering to your dietary preferences; that's exactly how I found an adorable (and delicious) vegan lunch spot called "Truffles" (see link below) in Kilkenny, our first stop.
We got lucky here, as well. Literally on the same block as our Kilkenny hotel, we found "The Cutting Vedge", a very casual, 100% vegan spot. We ate dinner there our first night; we were tired, it was close to "home", and the proprietress and I had fun sharing vegan recipes.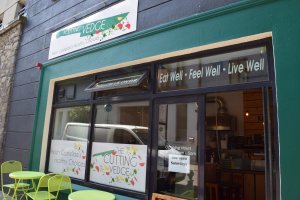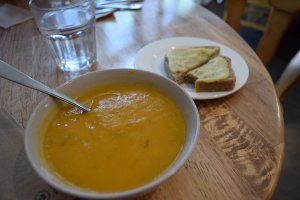 Sweet Potato Soup (Cutting Vedge)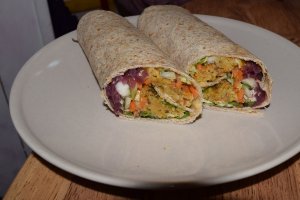 Nutloaf Wrap (Cutting Vedge)
What to look for on a menu if you're trying to eat mostly plant-based? Obviously, any mention of "vegan and vegetarian" options, but also things like:
Salads with beans/legumes

Vegetable and bean-based soups

Noodle and veggie dishes

Wraps filled with hummus and veggies

Veggie pizza (skip the cheese, or many restaurants now offer vegan cheese)

Grain dishes (rice, barley, quinoa) mixed with legumes (lentils, beans, split peas, etc.)
As for restaurants? Go ethnic. Indian, Middle Eastern, Mexican, Persian and Asian are sure bets.
But I Want to Try EVERYTHING!
Part of the fun of traveling is experiencing local cuisine and foods that are difficult or unusual to find at home. For example, at practically every restaurant we visited, Irish brown bread was served. While certainly vegan brown bread recipes exist, the only restaurant serving it vegan-style was "The Cutting Vedge"; every other restaurant served the kind made with buttermilk and butter.
But here's the thing. Remember I mentioned that "local" and "fresh" are the norm? When the people serving the brown bread (or scones!) share with you that the milk and butter come from the farmer down the street, and other ingredients include wholesome whole wheat flour and wheat germ, you have the option to unpack your flexibility and have a slice or two to accompany that freshly tossed salad, or avoid it completely and perhaps feel deprived.
Remember, healthy breast cancer diets are based on a

pattern

of eating, not a single food.
Here's how I navigated that decision. Brown bread wasn't available every, single night – so it wasn't a constant in my diet. Secondly, if it was baked from scratch in-house (like the scones served at one of our bed and breakfast spots), you can bet I was having freshly baked bread. If it came delivered from a commercial bakery (like the bread and scones at one hotel we stayed at), I skipped it – wasn't worth it.
Last week one of my readers emailed me this,

"My toughest challenge while traveling is thinking that I'm on vacation, so the extra treats are okay. Your article inspired me to consciously address that issue."
In my opinion, finding balance to include treats or pass them up is the key. Using the "is it worth it?" test, in terms of food QUALITY, is my litmus test.
Perhaps you have a different approach that works for you? If so, please share – I'd love to hear it!
Next week I'm wrapping up the food/eating portion of this series, and sharing the fitness/workout portion – you won't want to miss it!
Get even MORE breast cancer nutrition and fitness information, inspiration and tips.
Sources