It's true I'm on a tirade against Pink Ribbons, but since I don't envision them abating anytime soon, I've had a flash of insight as to where I feel they'd be most effective.
Wrapped around an enormous box of produce.
And that box of produce would be delivered to the front door of every person on the planet.
Indeed, fruits and vegetables are that powerful. For both protection against and as an aid in reducing the risk of recurrence of breast cancer, research continues to show the benefit of adding more phytochemicals to our diet. Where to find them? Produce!
According to Food, Nutrition and the Prevention of Cancer: a global perspective, a report produced by the World Cancer Research Fund together with the American Institute for Cancer Research; "evidence shows that most diets that are protective against cancer are mainly made up from foods of plant origin." http://www.wcrf.org/int/research-we-fund/cancer-prevention-recommendations/plant-foods
That doesn't mean you need to adopt a completely vegan or vegetarian diet, it simply means PUT MORE PLANTS ON YOUR PLATE.
Here's how: fill 2/3 of your plate with non-starchy fruits and veggies, the remainder with lean protein (plant or animal-based) and complex carbohydrates (brown rice, quinoa, farro, etc.).
One way to get a jump on your daily intake is with the ubiquitous smoothie. While there are literally thousands of recipes on line, certainly enough to stress you out deciding which is "the best (read, healthiest) one", trust me, the absolute best one you can choose to make is the one that you enjoy!
Six days per week I use my trusty Vitamix to whip up a smoothie. I like to include two fruits (I use dates (for sweetness) plus frozen blueberries or banana – and sometimes all three – crazy!), a large organic carrot, and a couple of handfuls of frozen kale (I buy Trader Joe's pre-washed fresh and throw it in the freezer). This morning my supply of blueberries had dried up, presenting the perfect opportunity to add cocoa (3 tablespoons) and peanut butter (well, not exactly peanut butter, but certainly the flavor) to that lonely banana. It was soooo good.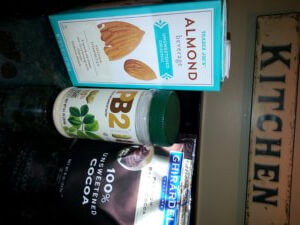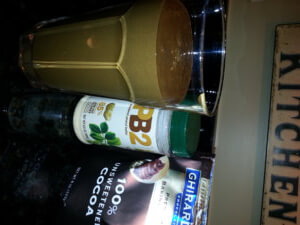 Aim for AT LEAST 5 servings (1/2 – 1 cup = 1 serving) per day of a combo of fruit and veggies – but don't be afraid to go OVER that number. Seriously.
Creating an environment INSIDE your body that is less hospitable to cancer is easy to do, completely free of side effects, and delicious.
Let's wrap a pink ribbon around THAT.
I welcome your comments, and if you found this post helpful, please share!
P.S. Follow me on my new twitter account: @cathylemanrd