You know it's important to eat your veggies – a 3rd grader could tell you that.
Yet when most people think about adding more veggies to their day, bags of plain (boring) baby carrots and plates of (over) steamed broccoli often come to mind, squashing even the best of intentions. Even a devoted veggie lover like me can't get excited about that.
If one of your goals is to "put more plants on your plate", packing a salad (along with the dressing) in glass canning jars is a fun, creative, efficient way to make that happen.
Canning jars come in a variety of sizes, but the wide-mouth pint or quart sizes work well for this purpose. A pint jar holds two cups, perfect for a lunch or side salad, while a quart jar holds four cups – good for crowd or dinner size salads.
Simply pour salad dressing (1-4 tablespoons) into the bottom of the jar, then layer the veggies, starting with heavy, non-absorbent varieties like carrots, onions, cauliflower and cabbage, and ending with the lighter ingredients like spinach, lettuce, arugula, etc. on top.
Press down the veggies, screw on the lid, and that's it! "Salad jars" keep will in the refrigerator for up to 5 days (yes!), making it super easy to have a ready-to-eat salad available at any time. When you're ready to eat, just shake the jar to distribute the dressing, or simply pour the contents into a bowl and toss a bit with your fork.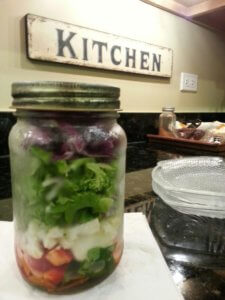 Have fun mixing and matching ingredients and dressings, and congratulations on accomplishing your goal!