I love opening my refrigerator door, taking a quick inventory of what's hanging around, and conjuring up a way to combine the remains of the week's meals into something new, nourishing, and delicious.
This week's fridge review yielded leftover whole wheat pasta, two sweet potatoes, and garbanzo beans (chickpeas). I closed the refrigerator door and left to run Saturday errands – but in the back of my mind the assembly was already coming together.
What if I sautéed onion and garlic for extra flavor (and nutrition!), blended the sweet potatoes and garbanzo beans with veggie broth, swirled in the marinara, and served it over the pasta? Bingo.
Here's a video showing the collection of ingredients I had to work with. Normally, I would simply dump the garbanzo's, sweet potatoes, and some broth together in my NutriBullet and blend until it "looked right", but I wanted to portion it out to give you exact amounts so you could recreate.
First I sautéed the onion until soft, THEN added the garlic. You don't want to burn the garlic (gets bitter), so I find cooking the onions first and then dumping the garlic on top a good way to avoid that.
Next, I blended the sweet potato, chickpeas, and vegetable broth to create a smooth, silky mixture. I used Engine 2 Plant-Strong Organic Vegetable Stock because it's "low sodium" claim truly is low; only 35 mg sodium per 1 cup! I love that, because when I don't have homemade veg broth available I want a convenient option that doesn't compromise nutrition.
I added the blended chickpea/sweet potato mixture to the onions and garlic, stirred it all together well, then swirled in the marinara (use the lowest sodium, no sugar or "extra" ingredients brand you can find!):
It. Was. Delicious.
Success!
And seriously, it was QUICK, I set my phone timer when I started. Here's a screenshot to show you it took only 16 minutes and 49 seconds. Obviously that's not including the time it took me to portion the ingredients, but it includes chopping the onion and garlic, the blenderizing, and combining!
Preparing the sautéed beet greens and spinach side dish (see below) took a little extra time, maybe 10 minutes. Also doesn't include clean up – but my husband does that, LOL!
Regardless, you could make this sauce in ~20 minutes then store it for later. Timesaver!!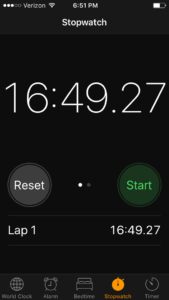 Here's a pic of the finished meal – it truly was so good, and we even have leftovers. Find the recipe below – enjoy!
Sweet Potato and Chickpea Pasta Sauce
1 medium white or yellow onion, diced
2 large cloves garlic, chopped
1 tablespoon olive oil
1 cup cooked sweet potato (2 medium)
3/4 cup chickpeas (garbanzo beans)
1 3/4 cup low sodium vegetable broth
1 1/2 cup low sodium marinara sauce (I like Trader Joes's organic no salt added)
Sprinkle of Kosher salt and freshly ground black pepper
_________________
Heat the olive oil in a large skillet (I like to use cast iron; adds iron to the dish), then add the onion, a sprinkle of Kosher salt and a few grinds of fresh black pepper. Sauté the onion until soft, then mix in the garlic and cook for another minute.
While the onion/garlic mixture cooks, blend the garbanzo beans, sweet potato, and vegetable broth together in a high-powered blender (I use my NutriBullet).
Add the sweet potato/garbanzo bean mixture to the onion/garlic mixture, blend well and cook for ~2 minutes. Stir in the marinara sauce, heat through for ~5 minutes and serve over your favorite pasta, or cool to room temperature and refrigerate for later!