Upon returning from my travels, my practice is to do a write-up highlighting information to help you stay "health-focused" should you one day find yourself visiting the same locale.

I've said it once and I'll say it again (forever), packing healthy habits alongside your jammies is the best way to keep breast cancer risk reduction top of mind when you (temporarily) leave your regular life/routine behind!
Having just returned from a wonderful week in the Pacific Northwest – specifically, Portland, Oregon – I'm excited to share some of my health-supportive/focused finds, from restaurants offering plant-based options (NOT a challenge in Portland!), to spots for fresh air and exercise that doesn't feel like exercise, to interestingly unique-to-Portland shops, ideas and concepts that nourish mind, body and soul.
Let me start with this: I WANT TO GO BACK!
A return trip to this part of the U.S. is definitely on the agenda, although the plan is to start in Vancouver, BC and work our way back to Portland through Washington state (Seattle Space Needle and Pike Place Fish Market, here we come!). Although we hit the ground running immediately after dumping our bags at our VRBO condo, Portland (and the surrounding area) boasts so much to see and do, it felt like we barely scratched the surface.
Portland is gorgeous, quirky, urban, friendly, and something I didn't realize, crazy in love with dogs. My husband is the dog lover in the family, I'm the dog tolerator, but I will admit it was awfully entertaining to watch all the doggies and their owners frolicking in the park right outside our condo at all hours of the day (they were especially frolickocious in the frosty before-work and dusky after-work hours; LOTS of fetching going on.)
To kick this off, here are a handful of shots I took that capture the pure essence of Portland:
Eat.
If your goal is maintaining a plant-based diet (vegan, vegetarian, flexitarian or anywhere in between) while visiting the Pac-Northwest, Portland is THE place to do it.
Every single restaurant was extremely accommodating to our requests for meatless meals, although meatless meals were found on the menu at every, single restaurant we visited (obviously, it's one of our criteria for choosing a restaurant.)
Sometimes it was simply a matter of clarifying ingredients or asking for minor substitutions, but these conversations and requests were never a big deal, in fact, it was almost expected – so refreshing! The biggest challenge in finding a meatless meal was during our trip to Cannon Beach; off-season, many restaurants closed the day we visited, but even there we ferreted out the ubiquitous hummus wrap and tomato soup (gotta love how America has discovered hummus.)
A commitment to sustainable and environmentally friendly agricultural practices, fresh, local produce, and no additives, preservatives or dyes was another thing I admired, respected and patronized several of our Portland restaurant choices for. It was another nod to health and the environment that I greatly appreciated.
Below is a collection of dining spots we hit – and loved!
Boxer Ramen
The richest, most delicious bowl of ramen I've ever eaten. This vegan curry bowl was brimming with corn (common in traditional ramen), broccoli rabe, marinated shiitake mushrooms (great cancer risk-reducers), and scallions. I ordered extra vegetables, always a good practice when dining out, since even vegetable-heavy dishes like this tend to be light on the veggies. The precursor to the ramen was a "greens + sesame" salad (yes, MORE veggies!) of swiss chard, shiitakes, pickled cabbage and soy toasted walnuts. The gorgeous black drizzle you see on the ramen is called "mayu", black garlic oil, the recipe for which I promptly asked the chef, and share here "Mayu" with you.  
__________________________
2. Hot Lips Pizza
Any restaurant where the young guys behind the counter feverishly write down ingredients and exclaim "I can't wait to try this!" as I share my recipe for broccoli salad, is a restaurant I will visit time and time again. 
I loved this restaurant's commitment to using fresh ingredients from local farms, and that an entire SECTION of their menu was devoted to Vegan Pizza Pies – including the one we ordered – "Falawesome Ball Pie" (it truly was awesome.) This pie featured a delectable squash (as in the vegetable) sauce base, topped with roasted red pepper, spinach, onions, and sliced falafel chickpea balls. Precursor was a kale slaw with carrots, raisins and hazelnuts – a discussion of which kicked off the sharing of the broccoli salad recipe.
www.hotlipspizza.com (sorry, trouble imbedding the URL; type this into Google and you'll get there!)
_______________________
3. Mediterranean Exploration Company
After dinner at this tapas-style restaurant, where my tastebuds were happily in overdrive and my belly was (unhappily) too full, we went an entire 24-hours eating only a bit of oatmeal and fruit – yes, we were THAT stuffed.
This place serves GORGEOUS food with exquisite and sophisticated flavor profiles, and we wanted to try EVERY plant-based item (but didn't) on the menu. Even with limiting our choices, we still "over-ordered" and couldn't quite finish everything, but darn it, we did our best (hence the meal that kept us full forEVER).
Even without eating a huge volume of food, eating lots of plants prepared by a chef who is not shy with the olive oil will keep you satiated for hours, thanks to the fat and high fiber – living proof right here.
Silky hummus (they must use skinless chickpeas), crispy, garlicky roasted potatoes, the best mejadra I've ever eaten (completely destroyed my ability to enjoy this dish at any other restaurant, ever again), and a mind-numblingly delicious freekah salad brimming with peppers and corn created the bulk (no pun intended) of our meal.
After such a robust repast, our plan was to walk to our evening destination, but this being Portland with its predictable unpredictable torrential downpours, there was no chance of walking off dinner until later, when we finally did. Eat here.
"Mediterranean Exploration Company"
______________________________
4. Cha! Cha! Cha!
One evening we weren't super hungry, but knew we would be if we didn't have a little something (don't you hate that between-hungry/full feeling?), and found this friendly taqueria within walking distance of our condo. I actually wished I were MORE hungry so that I could have eaten MORE of the most delicious veggie tacos and steaming bowl of tortilla soup (which I couldn't finish) I've had in ages. Their food is FROM SCRATCH, their commitment is to health, sustainability and giving back to the community – what's not to love? Next visit, I'm saving my appetite for a FULL meal at this spot, for sure.
___________________________
5. Gilda's
Happy 27th anniversary to us!
Celebrating the day we said "I do" was the reason behind this trip in the first place, and how we found ourselves at this great neighborhood spot. Earlier in the week we'd had Italian that was disappointingly not. very. good. This was beyond. good.
Pre-dinner salads were fresh and not drowning in gloppy dressing, the pasta perfectly al dente and authentic. That's what happens when the chef learns, trains, and works in Italy before settling back in the U.S. to wow folks with his food. Thank you, chef Marco.
_____________________________
Totally Random Portland
I think one of the best things about traveling is how your mind scoops up new ideas and experiences. Here's a collection of things that interested me, I participated in, and spoke (mostly) to the idea of "health in mind" as well. . .
Remember "White Hen" convenience stores? Green Zebra is that, only stocked full of fresh produce, a salad bar, vegan/vegetarian/healthier packaged items, and a hot food counter/bar (like Whole Foods, only smaller and much less $$.) We need these in Chicago!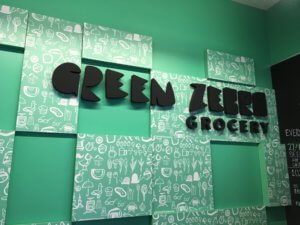 A 100% vegan grocery store selling vegan "junk" food. This I had to see. And seriously? I cracked up at the sign on the front door (read carefully below!)
There were some "un-junky" items to be sure, like this nut-butter combo you see below, but 'ya know – organic, vegan, non-GMO candy bars and chips are still candy bars and chips – not the foundation of a balanced vegan diet. But you already knew that. And it sure was fun to peruse.
Co-ops and (other) interesting grocery stores carry unique items: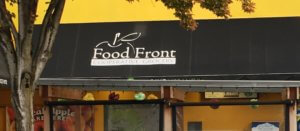 Like organic multigrain tempeh in "bulk", a steal at $15.99.
Coffee – fabulous coffee (and adorable indie coffee shops) on practically every corner; a welcome respite from. . .you know. . .S*#RB+@S.
Stunning hiking trails and ocean views.
Hood River County "Fruit Loop" orchard tour.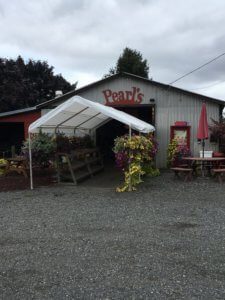 Painted buildings sport inspired "art" – a feast for your eyes.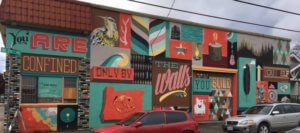 I discovered 100% chocolate.
Serenity of the "Portland Japanese Garden."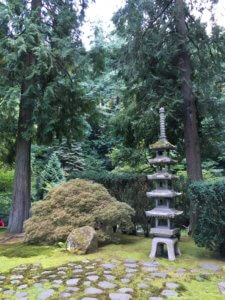 Perky painted houses all in a row – nothing to do with health, but everything to do with order, surprise, and spunkiness – three often opposing concepts I adore.
A fully tricked out in-house fitness center.
Taking a barre3 class with a room full of women I didn't know (no pics, but here's the link.) "barre3 Portland"
And there you have it, a (mini)tour of my action-packed week in Portland. If you're traveling there anytime soon, I'm jealous!! And I hope my (mini)guide helps point you to nourishing food and fun, healthy times.
If you want more nutrition and breast cancer information and updates on programs and services, shoot me an email at cathy@cathyleman.com.

I'll subscribe you to my weekly newsletter, and as a thank you, send along my "25 Ways To Strike Back At Breast Cancer."

You can follow me here. . .

Twitter: @cathylemanrd

Facebook: https://www.facebook.com/eatwellgetstrong/

Easy. Peasy.