I really wanted to like this product.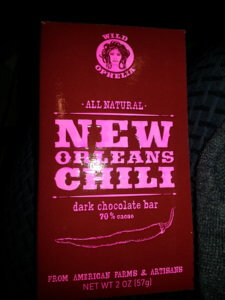 "Wild Ophelia" http://www.wildophelia.com/#our-chocolate, an offshoot of the Chicago-based, woman-owned company Vosges Haut-Chocolat https://www.vosgeschocolate.com/story and the brand behind this particular chocolate bar is described as "the spirited younger sister of Vosges Haut-Chocolate".  I mean, consider the things we have in common; Chicago is my adopted hometown, there's a "sisterhood" of women biz owners, I've eaten Vosges products before and LOVED them, and dark chocolate holds ever-steadily at the top of my list of food must-haves. . .I really, really wanted to like this product.
And in support of my October breast cancer action to highlight food and nutrition to elevate health and optimize healing, good quality chocolate is a topic that fits right in – it's flavorful, satisfying, and a source of antioxidants http://www.med.umich.edu/umim/food-pyramid/dark_chocolate.html
Earlier this week I attended a conference where piles of this chocolate bar were available, serving both as a complementary snack and a clever marketing initiative to ~ 2,000 women.
Never mind that I was drawn to it as a treat for my husband.
I like my dark chocolate either straight up, or smeared with homemade peanut butter; he fancies the kick of chili pepper.
Perfect. I snagged a couple.
But as I examined the label more closely it struck me (and not for the first time), how consumers trying to make conscious choices for health – particularly my audience of women eating to elevate health and optimize healing in the fight against breast cancer – can easily be duped.
Notice the words "ALL NATURAL" stamped predominantly on the front. But flip the package over, scan the ingredient list, and you find "soy lecithin."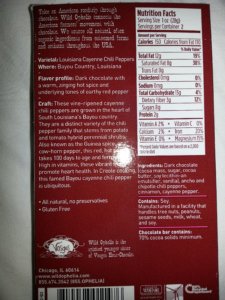 Spoiler alert. The only thing natural about soy lecithin is that it originates (very early on in processing) as a soybean.
Hopefully, yet potentially not, a non-GMO soybean.
Here are two links to info on what soy lecithin is and how it's actually derived from the soybean plant – the first, a quick read, the second, a deeper dive; 1. http://blog.fooducate.com/2009/07/07/what-is-soy-lecithin-and-why-is-it-found-in-so-many-products/, 2. http://www.soyinfocenter.com/HSS/lecithin1.php.
Essentially, soy lecithin is added to foods as an emulsifier to help prevent oil from separating from other ingredients while allowing the ingredients to bind or blend nicely together.
My concern with "natural" splashed across the front of so many food labels – you simply need to buy food to see hundreds of examples – is that it misleads people to believe that the food they're eating is somehow "better or healthier" for them, when in fact that doesn't always hold true. Here's an article that speaks more to this issue: http://www.cbsnews.com/news/what-does-natural-really-mean-on-food-labels/
Let me be clear. I'm not saying "DON'T EAT" this product. It's strictly a personal choice to determine which ingredients (and how much of them) you're ok with. Will occasionally eating one of these chocolate bars trigger illness or death (as some would lead you to believe)? Of course not. My goal is simply to educate my readers so that they can make confident decisions on their own.
Katrina Markoff's initiative and mission behind "Wild Ophelia" is incredibly laudable, http://www.wildophelia.com/#our-chocolate, and if my previous experiences with her product hold true, the chocolate bar is AMAZING (full disclosure – I haven't tasted it). It's simply my hope that small, "do-good" food companies such as hers will lead the effort in using food labeling terms responsibly and authentically so people can feel confident making food decisions for health.
I strongly encourage breast cancer patients and survivors to consider everything they put into (and on!) their body by asking themselves; does this support health, optimize healing, and support an internal environment inhospitable to cancer? Those questions can be game-changers; for both the woman, and food manufacturers.