It's practically a right of passage at the time of a breast cancer diagnosis; minimize and contain bad eating, drinking and exercise habits to minimize and contain the fear of "making the cancer worse."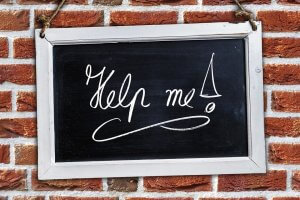 So you ask your doctor for guidance.
And your doctor says?
Well. That depends on your doctor.
Ask any new breast cancer patient about diet/nutrition advice received from their doc, and you'll get as many different responses as the number of patients polled.
Here's how I know this.
I asked just over 140 women in the breast cancer community; "Did you receive nutritional guidance from your medical team, and if so, was or wasn't it helpful?" Guess which won out?
The majority (54%) said they received no guidance, and of those who did?  ~ 25% said it wasn't helpful.
It's fairly common knowledge that breast surgeons and oncologists at best receive minimal nutrition training. In their defense and in context, when nutrition isn't part of an educational curriculum, it's beyond scope of practice to provide nutritional guidance. Even Dr. Jennifer Ligibel, a Dana-Farber Cancer Institute breast oncologist speaks to that lack of training here.     
And yet, who else are you going to ask? You're drowning in appointments, seeing several doctors so often it seems more efficient to pitch a tent in the waiting room until you receive your treatment plan of action. No one clued you in to the benefits of working with an oncology dietitian – who even knew those existed? So of course it seems reasonable to ask the most accessible medical person – your DOCTOR – because you are ready to take action and you are looking for answers, damn it.
Get Ready, Get Set, Go!
Regardless of what you read, we don't yet have an anti-cancer, do-this-and-your-cancer-won't-get-worse-I-promise, cure-all magic bullet. And if anyone tries to SELL you something they guarantee will do that? Don't fall for it! 
We have decent research linking healthy habits to some pretty impressive outcomes; getting on the "go train" as soon as you can after your diagnosis can help you head into treatment from a place of strength. Below I summarize the most encouraging evidence-based nutrition, fitness, and lifestyle interventions we have at this point. If you're looking to make changes, start with one (or all six) of the areas; it's where your efforts can give you the most bang for your buck. Just remember, be realistic in your expectations. You may be feeling extremely vulnerable, looking (and hoping) for that miracle. This isn't that, it's simply well-meaning guidance on self-care, of which all of us can learn to be better at.
DIET and NUTRITION
What's the difference?
Diet is the different KINDS of foods that you choose to eat. Nutrition is the outcome of the processes by which your body takes in and uses food sources.
The Type of "DIET" You Choose to Eat
While research continues to support a plant-based diet, the correlation between diet and breast cancer remains controversial. Recommendations for general health and to potentially reduce breast cancer risk include increasing fruits, vegetables, whole grains and beans (legumes), while limiting red (especially processed) meat. Plants are good sources of phytochemicals, high in fiber, and low in calories (helping to maintain a healthy weight), all of which support breast cancer risk reduction. (1)  
The "QUALITY" of Food That You Eat
While most studies on the risk of breast cancer in relation to individual foods and nutrients have shown inconsistent results (2), a recent review of current research looking at overall dietary intake (pattern) suggests that foods of higher quality, for example, a piece of whole fruit versus a glass of fruit drink, are associated with a decreased risk of overall and non-breast cancer mortality. (3) Research is ongoing in this area, with strong interest centered around the impact of overall dietary patterns and quality on breast cancer risk reduction, so stay tuned. In the meantime, uplevel the quality of foods you choose – there's no need to wait for research to confirm the benefit of THAT.
The "BALANCE" in Your Diet
Does your diet lean more heavily toward foods low in nutrients, high in calories? Is your plate missing the greens, yellows, oranges and reds of fruits and veggies? Do you skip some meals and overeat at others? Do you eat out and on the run most often? Do you manage stress with regular and steady intake of your favorite alcoholic beverage? Research shows a strong positive correlation between alcohol, obesity and less healthy eating patterns and increased risk of breast cancer. Modifying HABITS promotes better overall balance, in turn reducing overall risk. (4, 5)
The Effect of "MEAL TIMING" on Body Weight and Risk Reduction
A growing area of research is connecting the timing of eating to metabolic function, biomarkers, body weight and breast cancer risk. Current research suggests that aligning food intake with our body's "internal clocks" positively effects insulin resistance, metabolic and physiologic pathways, and hormones released in rhythm with light of day and dark of night. One newer piece of research suggests the risk of recurrence is reduced in breast cancer survivors who have a nightly fast of 13 hours; I wrote much more about that here.
EXERCISE
A robust collection of studies points to the power of exercise as a potent habit for breast cancer risk reduction; both initial diagnosis and recurrence. We all know women who've exercised regularly and still are diagnosed with breast cancer (yours truly included). Yet research shows women who are more physically strong, fit and active at the time of diagnosis have improved treatment outcomes, faster recovery times, experience positive effects on fatigue and the management of stress and anxiety. Surprisingly, we have more definitive research on exercise and breast cancer than we do on nutrition and breast cancer, so what are you waiting for? Move it! (6, 7, 8, 9)
LIFESTYLE
Diet, exercise, alcohol consumption, body weight, sleep habits, stress management – collectively these make up our lifestyle habits.Yet what about the actual environment in which we carry out our lifestyle? As I always say, when 85% – 90% of breast cancer cases have ZERO genetic link, and every two minutes a woman is diagnosed, something is broken. Like nutrition and breast cancer, the research on the environment connection is complex. Adding to that complexity is breast cancer's long dormancy and multifactorial nature. (10) However, complex doesn't mean we can't take cues from current findings and work to reduce environmental risk whenever possible. 
I advocate for:
storing food in glass vs. plastic

never heating (or RE-heating) food in the microwave in any container other than glass (even when labels indicate otherwise)

purchasing (or making!) household cleaners and personal care products free of fragrance, chemicals, parabens and phthalates 
_________________________________________________
Never miss a single post!  Join the hundreds who already get weekly inspiration – FOR FREE! 
______________________________________
SOURCES
Alcohol Consumption and Breast Cancer Recurrence and Survival Among Women With Early-Stage Breast Cancer: The Life After Cancer Epidemiology Study.
Effects of an 18-week Exercise Programme Started Early During Breast Cancer Treatment: A Randomised Controlled Trial.
Effects of a Physical Exercise Rehabilitation Group Program on Anxiety, Depression, Body Image, and Health-Related Quality of Life Among Breast Cancer Patients.