Every year I get all sorts of giddy when March finally rolls around.
Volatile, unpredictable, raw Chicago weather notwithstanding, March 1st ushers in celebrations and observances of a number of topics (and FOODS!) I am fierce about:
Women's History Month

National Nutrition Month

National Peanut Butter Lover's Day (March 1)

Read Across America Day (March 2)

International Women's Day (March 8)

Popcorn Lover's Day (March 8)

National Grammar Day (March 4)

International Earth Day (March 20)

First Day of SPRING! (March 20)
And of course, no March mention is complete without St. Patrick's Day, marked by the Chi-Town custom of dying a large body of water a curiously odd shade of green, and consuming a curiously insane volume of green beer.
So much to celebrate, so much to observe, so much to be grateful for (like the multitude of March birthdays belonging to many people I love!). Before I slide too far down the March-madness rabbit hole, let me circle back to the actual topic I want to tackle in this post.
National Nutrition Month.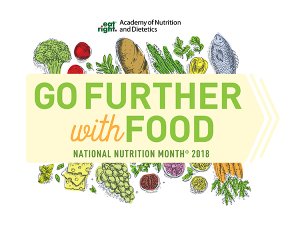 A bit of history. When first launched in 1973, the American Dietetic Association (as the Academy of Nutrition & Dietetics was known then) introduced NATIONAL NUTRITION WEEK as an opportunity to promote the dietetics profession and serve as a vehicle for sharing nutrition education messages with the public. Expanded to NATIONAL NUTRITION MONTH in 1980, the practice continues, guided by a new theme developed annually.  
The 2018 theme "Go Further With Food" makes my dietitian brain think of all the different ways it could apply: enhancing physical energy, stretching food budget dollars, and multiplying meals and snacks with leftovers, to name a few.
But the nutrition therapist in me looks at it a different way.
How can someone go

further

with food when they can't even get

past

it, given all the roadblocks they've thrown up to avoid it, abuse it, overindulge in or restrict it?
And all of THAT doesn't necessarily go away with a breast cancer diagnosis. Nope. If anything, the flames of a challenging food relationship can easily be fanned into a raging inferno as a way to cope with the terror, anxiety, depression, uncertainty, disbelief and rage that accompany said diagnosis.
Even with no blatant food challenge to contend with, a person may feel pressured to change their diet for the better, resenting every forkful, or feel forced to change their diet for the worse due to alterations in taste, feeling chewed up with guilt and bleh with each bite.
And let's not forget the "you're not changing my food" stance:
"If I believed everything I read about food, alcohol and breast cancer, I'd never eat or drink anything."
"I ate well before and STILL got breast cancer, so obviously, it doesn't matter WHAT I eat."
"Life is short, I'll eat and drink whatever I want."
"There's no consistency in nutrition guidelines, they change every week, so who knows what's good and what's not."
"My doctor said it doesn't matter, that I should eat whatever I want."
Even under the best of circumstances, the psychology of food is complex and multi-layered (sort of like a delectable Viennese torte), but the addition of a breast cancer diagnosis seems to crank everything up a notch, occasionally causing even the most well-intended nutritional guidance to crash-land.  
Having shared a peek into the underground nutrition world that I work in, I thought it would be interesting to do a different take on National Nutrition Month, tackling topics in breast cancer nutrition that have nothing to do with food, and everything to do with preferences, beliefs, habits and behaviors.
Stay tuned this month for unique perspectives on what it takes to walk the breast cancer nutrition line, while at the same time, living your actual life and surfing the mindset and feelings wave.
And by the way, March is also MY birthday month. Definitely a date to observe – with more GRATITUDE than the universe could ever hold!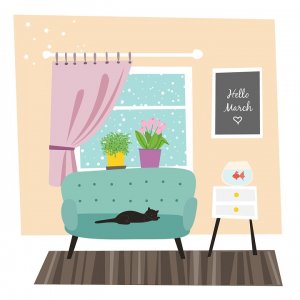 Get my FREE Nutrition & Fitness Jumpstart worksheet!