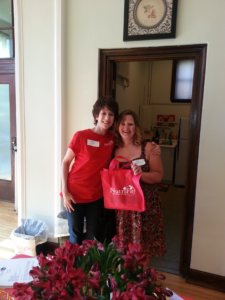 With so many accessible "tip lists" crowding the blogosphere, it would be reasonable to surmise that the only way to effectively do ANYTHING these days is to come up with a few simple steps and voila', you'll experience stunningly speedy SUCCESS.
For example, "5 Ways To Simplify Your Dinner Routine!", "4 Foods You MUST Eat Now!", and "10 Exercises For Better-Fitting Jeans!" are all made-up titles by yours truly; yet I'll bet they got your attention.
Somewhere along the way, breaking big chunks of detail into manageable bites became THE way to share actionable information.
And I think it's a really good idea. Because everyone is so overloaded with information, if you're truly invested in making changes and/or moving forward on a project – personal or professional – wrapping your mind around a few simple ideas for getting started can be just the kick-in-the-pants you need.
In fact, I took the same approach when I did a podcast interview recently on the success of my business. Jim Kendall of Kendall Communications hosts a regular business podcast called "Business Owners' Pod Talk", and graciously invited me to be a guest. Because there's so much that goes in to what and how we do things here, it was important to distill my message down and get clear on the core competencies that make us unique.
Here's the link to the actual podcast, "Adapting Success", (enjoy!), and below I summarize NutriFit's "3 Keys For Success".
1) We are VERY clear that we're not the right fit for everyone.
Unlike "big-box" health clubs that happily collect monthly payments from members, yet really don't care if they actually show up or not, we WANT our clients to be here. If you're ready to make the commitment to do the work required to reach your goal, and you're committed to being here week in and week out, then there's a really good chance that yes, in fact, we ARE right for you!
We pre-qualify each and every client to be sure we're the right fit.
2) I spend a great deal of time networking and collaborating with other (health) professionals in the community.
As a registered dietitian, I'm a healthcare provider. I reach out to other professionals such as physicians, therapists and counselors, physical therapists, and other dietitians and personal trainers. My clients work to be as healthy and whole as possible, which sometimes require services outside my scope of practice. In collaborating with other healthcare professionals who share a similar treatment philosophy, I can connect my clients to individuals that I feel confident about, and have confidence in.
These healthcare providers serve as a wonderful referral network, and we definitely support each other in that way. Coordinating care with other respected and competent providers is a win-win for all of us.
3) We deliver our services with integrity, professionalism and respect, and results-based expertise.
It is a PRIVILEGE to partner with people to help them reclaim their health, life, self-esteem and self-confidence. We honor that by treating our clients the way we want to be treated.
It takes A LOT to take the first step to contact a complete stranger to help you regain your health. We work really hard to put our clients at ease, welcome them into our supportive, warm environment, and meet them where they are in order to walk along side them in their health journey.