We've arrived at the final installment of my three-part series on food, fitness and travel!
I have so enjoyed sharing my "ah-ha" moments, challenges, and the many (but not all – that would be a crazy long post!) travel-well tips I picked up during my recent trip to Ireland.
Reading the feedback I've had on my food pics has been super fun. I've learned that my photos inspire you to give more plant-based options a try (or, as they say in Ireland, "a go"), and open your mind to the wide variety of dishes that exist (or CAN exist) on a vegan/vegetarian menu, whether in your own kitchen or an actual restaurant.
Given that, I'm closing the food portion of the series with nothing but photos. These BARELY scratch the surface. I took dozens of food photos, but again, this post would go on forever, and who wants to see THAT many food pics, anyway? 
Maybe I'll share more at a later date – or drop them into other posts as appropriate.
BREAKFAST OPTIONS
Oatmeal to us, porridge to the Irish. Grilled mushrooms and potatoes (love savory breakfast!), beans (not the black pudding/sausage/bacon), always fresh fruit, homemade granola with coconut and hazelnuts (ADDICTED) topped with berries, dried prunes/apricots, savory breakfast of mashed avocado, hummus, more grilled mushrooms (yay!) and roasted peppers, beans in tomato sauce, Wheatabix cereal (so British), homemade rhubarb compote atop freshly baked brown bread, freshly baked blueberry scones, hotel ready-to-eat cereal buffet that I passed on, but had to photograph.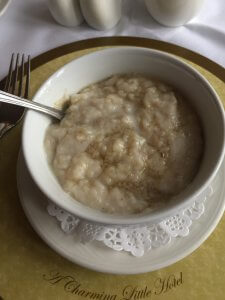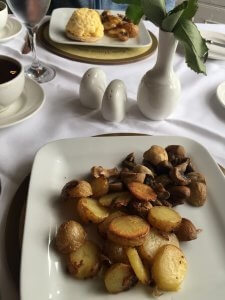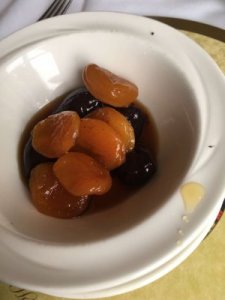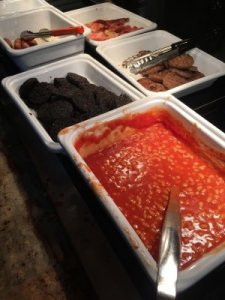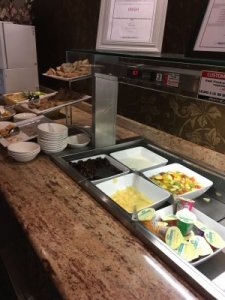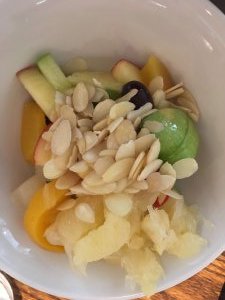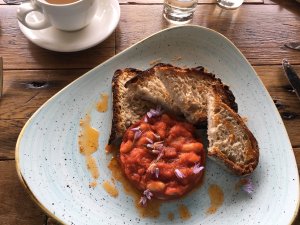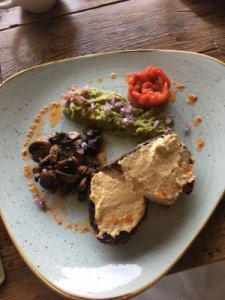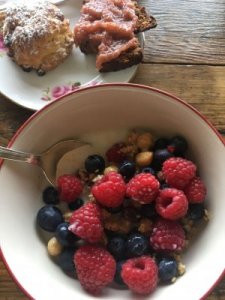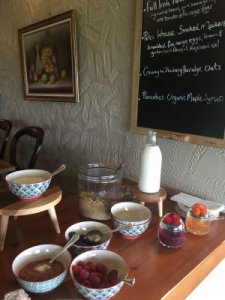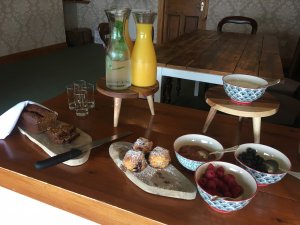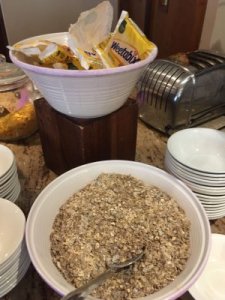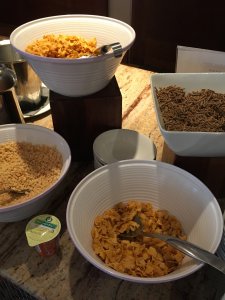 LUNCH/DINNER OPTIONS
Lots of veggies with every meal (even if we had to order as side dish – DO IT!), cashew cream sweet potato baked lasagna with kale and parsnip chips, veggie paella, mezze platter of salad, hummus, grilled veg and harissa, lentil dish with patatas bravas (tapas restaurant), roasted green beans in to-die-for olive oil/garlic drizzle, garbanzo bean dish, veggie curry w/rice, super fresh salads with grains and seeds.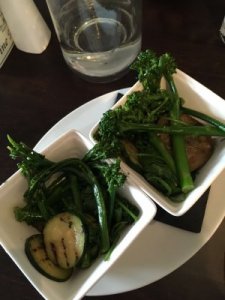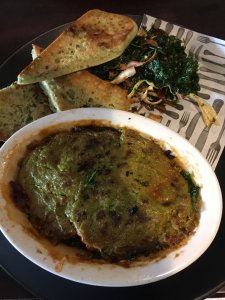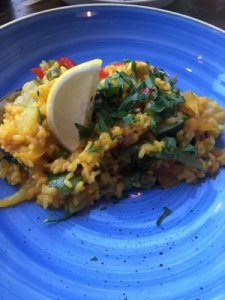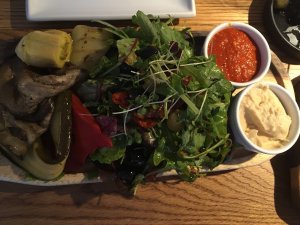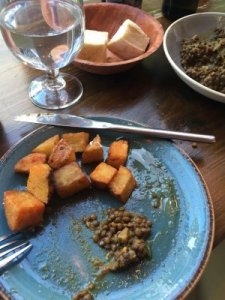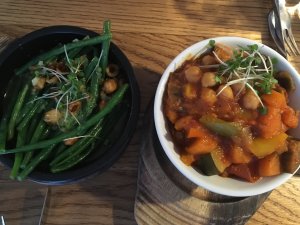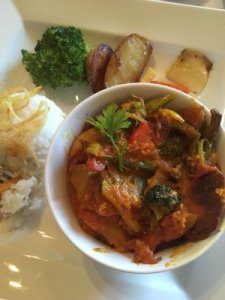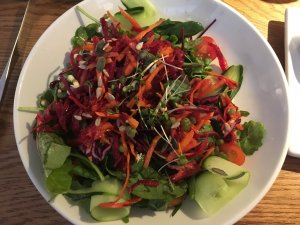 Fitness
Here's what I learned about keeping my fitness up during this epic trip.
FLEXIBILITY IS NOT RESERVED ONLY FOR YOGA CLASS.
Easy for me to say, not always easy for me to do. I was scheduled to run a 9-mile race the Saturday following my return from Ireland. Silly me, I thought I'd be able to keep my mileage around the 7-mile mark during the trip, so when I stood at the starting line for my 15K, I'd be good to go.
Well. Best laid plans, and all that.
My fitness goal started out ok. I ran seven miles the day we left (one mile for every hour in the air, LOL!), and managed to get a 4-miler in on the grounds of Kilkenny Castle three days into the trip.
After that, my running went to hell.
Roads were narrow and dangerous for walking/running, sidewalks non-existent, and the morning I happened to be in an area perfect for a long run? I slept in because I couldn't get to sleep until 2:15 a.m.
Argghh.
My last significant (if you could call it that) bout of running came during our final week, when for two mornings straight I ran laps in a tiny car park under the watchful eye (make that 14 eyes) of seven beautiful Irish cows. I've had many workout experiences in my life, but never have I had such a "beefy" audience.
So we did a lot of hiking – always great exercise; for the mind and body.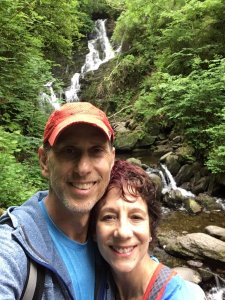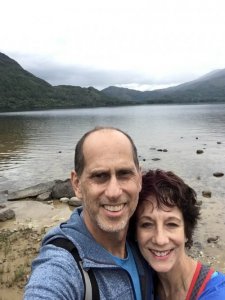 And visited fitness centers when we could. One was filthy (I skipped that one and did my castle run), one was well-equipped and clean (Ocean Fitness), and one was a collection of three small rooms on two separate floors in a remote part of an otherwise fab hotel. But we made them all work – I was simply thrilled to have access to ANYTHING resembling a weight room.
And of course, there was the day I did the "7-Minute Workout" in the hotel room. Do you know it? Give it a Google search; tons of sources.
All in all, what with planks, push-ups, dips and squats in the hotel room, hours spent wandering small towns, and the purposeful exercise we deliberately went after – we did just fine.
I was thrilled to get back to my regular workout schedule, but wouldn't trade one second of that trip for one more hour in my Glen Ellyn gym. 😉
If you have fitness tips that you pack along, or travel nutrition ideas to share – please do! I'd love to hear your strategies and experiences. And if my Ireland travel posts have inspired you in any way – I want to know that, too!